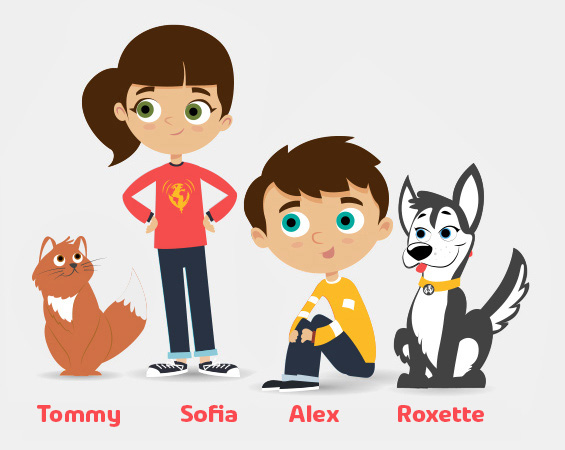 Sofia, Alex, Tommy the Cat and Roxette puppy are founding a children's town to the reminder of one unforgettable adventure.
How did this magical place come into being? As a result of childhood's miracle, so you must definitely get to know its story.
Destiny Park history begins long ago, when a bunch of children willing to discover the amazing nature started their adventure duly accompanied by a series of expert guides, in the woods at the outskirts of Bucharest. The day seemed to be just perfect for our little explorers. They got off the bus and mounted their tent in a clearing and they started walking to search the wood trails. The children were thrilled and they discovered some bird nests and foxes' dens, they had a great time, singing and playing all sorts of games. Getting back to their tent, they even made a campfire. However, feeling exhausted from so much fun, they quickly fell asleep. The three guides thought of surprising them and having them fish for dinner. So they left for the lake which was not but a few meters away from the place where they had their camp set.
They were absolutely sure nothing bad was going to happen. They got on a boat and started rowing. They were thinking that if they had only got a little bit away from the shore, they would have been more successful in catching some fish. But a wild wind has suddenly started blowing and shifted the boat far away from the shore. Woken up from their sleep since the leaves were making so much noise, the children started to look for the grownups, and yet they have soon realized they were all alone in the woods. From now on they had to do manage by themselves – literally survive the woods and find their way back home.
Being as brave as they knew they were, they did not lose it. That was the time when each and every one of them should use their own skills. One little girl and one little boy, namely Sofia and Alex proved to be the most daring ones.
– It's time we should act like grownups now, Sofia said.
– We shall be explorers, drivers, cooks, doctors, anything it takes for us to make our safe way back to town, Alex added.
They had got to the woods by bus, therefore one of them should get the wheel. It was Alex who dared driving, and some of the children helped him decipher the maps as well as the compass. Sofia took care of the youngest in the group and so, together, they did a bunch of good deeds. Wherever they went through they used to clear the woods, they even helped one skylark baby to reach their nest next to his mommy and they also fed the squirrels and little sparrows. As they were walking through the woods, they came along a very friendly puppy, named Roxette. She immediately joined the group of children and they left together moving along on the wood path. But as much as they had actually tried, they just weren't able to find the way to the clearing at the outskirts of the woods. The road Alex had gone by car got stuck, so they literally needed a miracle. They didn't even have to wait that long. All of a sudden, Roxette started barking a lot. Children stopped and listened carefully. There was a certain meow coming from the top of one high oak tree. There was a scared little kitten not having a clue of how to get down from there. Since he was very resourceful, Alex found a ladder at the back of the bus. Sofia was the one helping him to get up on top of the tree and while being very careful, he managed to save the little kitten. All good deeds have a reward, and that being said, on top of the oak tree Sofia was able to see the road getting them outside the woods and leading them to Bucharest. There was not too long for them to drive over there. It was a short way to go. And because the animals have helped them reach the clearing, our young children spoiled Roxette and the cat by giving them snacks that had been made by young cooks. They even found a name for the cat. They called him Tommy.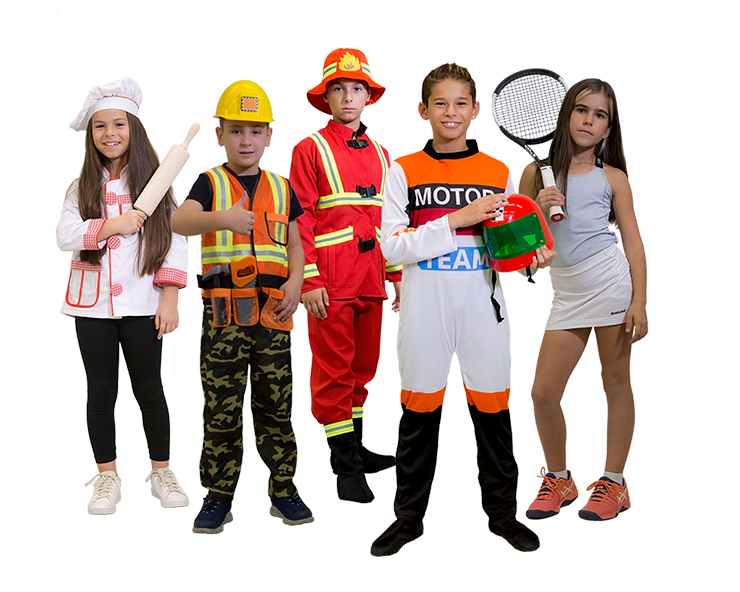 Anywhere the children were passing, they were definitely showing their skills, kindness and care for the nature. At one given point in time, they found some leftovers randomly thrown away at the roots of some tree. They immediately knew what they were supposed to do. Feeling sad for the tree which had to suffer, they picked everything up in a bag in order to throw it in a bin. Shortly after, they reached their safe destination point.
At the outskirts of the town, their parents were waiting for them, feeling happy of having found them again and thrilled that the little ones had managed so well. Alex, Sofia and all the other children could just not let go and forget about the adventure of their lifetimes. So they discussed and agreed upon making up on that very site, a children's town where all brave children can explore any job in the world. Since they wanted it to be a place where people can learn, but also play at the same time, they decided that the world they were going to create, should teach young children for future challenges, callings and missions. They wished that through play young children could get a glimpse of what's it like to fly a plane, or being a doctor or a banker. And that's how Destiny Park came into being – a place where children literally rule the world.
Come and get to know the magical universe inside Destiny Park!
And today, in due remembering of that adventure, Alex and Sofia are here to meet children coming to visit Destiny Park. They are assisted by Fluffy Tommy as well as by Roxette puppy who is always joyful and ready to play along. Both are friendly and eager to personally meet all children getting to this magical universe. They are the ones helping children putting on their MagicWatch magical amulet, enabling them to get access to Destiny Park as well as to all games and activities.
Each year, children in Destiny Park get to choose two mayors: one girl and one boy, ancestors of both Sofia and of Alex of course. They are to propose new and new games, which shall be based on a vote-casting basis. They are also the ones appointing the Destiny Park ambassadors in the grownups' world and they shall stand for the spokesmen for all children having something relevant to say in all these.
While in Destiny Park the only currency that's actually worthy is children's currency. On entry, young age visitors get a value coupon which should get into Destiny Park bank. In return they get 40 MagicCoins. With it they can pay some of the activities, or they can also spend it in the Destiny Park shop. However, following their attendance in various experiments, they can definitely multiply the amount and deposit it to the bank. Children also get a Choco-Coin which they can literally…..enjoy and taste (made of the finest quality chocolate), or which can be used for having immediate access to one of the activities, with no extra costs whatsoever.
Where is the actual location of Destiny Park? You can find maps with this wonderful universe location in kindergartens and schools all over Romania; nursery teachers, primary teachers and all other teachers and parents are duly encouraged to help children get to the world where they can be actual leaders. Destiny Park real map can also be found on our website. The password to get access to Destiny Park is "Hi there Roxette, Hi There Tommy!". Children should definitely keep that in mind since they may be required to state that password for sign in purposes. Once they get to Destiny Park, children shall get the Magic Kit made up of identity cards, the MagicWatch access bracelet and one MagicBank cheque which shall be turned into MagicCoins.
The place where you learn by actually playing!
Destiny Park stands for the development of one innovating concept, that of stimulating children to learn through playing. Up to teenage years, playing stands for the most relevant means by which children get to explore, create, interact and… learn.
Destiny Park is one indoor space for fun, built up around an area of over 3000 square meters. In one miniature town that has been especially designed for them, with due institutions, saving money and own money actually, children up to the age of 14 learn how grownups' world really works, and they do that by actually playing.
Destiny Park grants children both the experience of hands-on learning, by means of ultrarealistic roleplay, of more than 50 jobs in grownups' world, as well as the due acquisition by means of stories, of the key values accompanying one successful carrier as well as a really beautiful life ahead:
Intelligence – wisdom – accountability.
Curiousness – study – science.
Love – attachment – joyfulness.
Honesty – loyalty – sincerity.
Talent – spontaneity – creativity.
Hardworking – perseverance – passion.