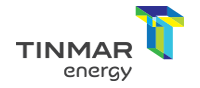 By what sort of miracle can the light bulb be turned on? What is electricity? How is it produced? These are just a few of the questions that children usually ask.
Within this activity, visitors can find answers to all their curiosities. Tin City is a very special city and the children who "work" here have an important role. They are engineers or specialists, but they can also carry out certain activities depending on their age, not only on their preferences.
Solar energy is a new solution, but for people, natural gas is the main resource we have used for hundreds of years. This is the second area of activity from the Power Plant. "Specialists", children who work here, must extract natural gas through a kinetic type experience according to their age.
This area inside the Power Plant is strongly connected to the other activities carried out here. (See Power Plant pages – solar energy engineer and Power Plant – electricity grids design engineer).
*This activity is in progress of being developed!
Financial impact: +8 MagicBani
Age: +6
Role: natural gas specialist (KINETIC EXPERIENCE)
Values learned: intelligence, wisdom, responsibility, curiosity, study.
Acquired skills: motor skills, ability to work in a team, establishing goals, result oriented.